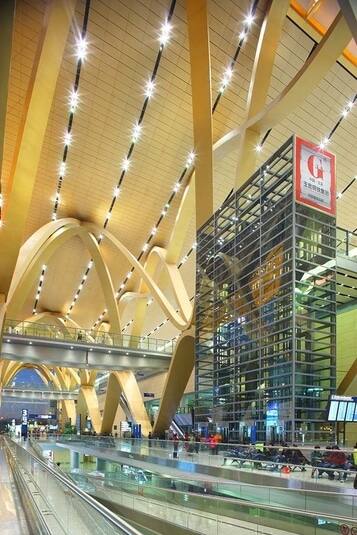 September 18, 2018
Updated January 23, 2020
When over 1.4 billion people decide to take to the skies, you can be sure that the aviation sector is in for a very good time. And that is exactly what is happening in China.
"A large part of this can be attributed to the expected increase in the number of middle-class households in the country and further growth in income over the next decade," says Albert Tjoeng, assistant director for corporate communications in Asia Pacific at the International Air Transport Association (IATA)
According to the IATA, in 2017 alone China added a massive 59 million journeys. And within a decade, air travel is predicted to rise by 75 percent to more than a billion journeys per year.
This trend is clearly visible in Yunnan Province in southwestern China. The province attracts millions of domestic and foreign visitors thanks to its spectacular natural scenery and the unique cultural heritage and cuisine of some of China's most colorful ethnic minorities.
And more visitors are definitely on the horizon. Yunnan is destined to be a regional hub for connections between China and Southeast Asia thanks to its shared borders with Vietnam, Laos and Myanmar. It is also strategically positioned to be a driver for China's ambitious Belt and Road Initiative, a massive program under which billions of dollars are being invested into building infrastructure projects, including the construction of overland and maritime trade routes across the globe.
Maximum capacity
The Kunming Changshui International Airport serves these millions of travelers. In 2019, it ranked as the sixth busiest airport in China. Built in 2012, the terminal building is over a kilometer long. It occupies an area of 159,000 square meters, and was originally designed to deal with 37 million passengers annually. However, already in 2017 passenger volumes rose to 45 million, and there is no sign of numbers dwindling.
While a second terminal is scheduled to open at the end of 2020, the airport is currently dependent on existing equipment running smoothly to deal with rising passenger volumes.
When people have a flight to catch, they rely on the 119 KONE elevators and 16 KONE autowalks at the airport to get to their destinations.
"If there are delays, sudden increases in traffic or a breakdown in equipment, there is the potential for complete chaos," says Yang Lin, who manages KONE's operations at the Kunming Changshui airport.
Ready and on site, 24/7
To prevent this kind of chaos, the airport opted for KONE 24/7 Connected Services, cutting-edge technology that enables the real-time monitoring and analysis of a range of critical parameters that impact the condition and operation of the elevators and autowalks.
This is significant as airport authorities at Kunming Changshui have mandated an equipment operation rate of over 99%, and require all necessary maintenance work to be completed within four to five hours. For KONE, the ready availability of spare parts and technicians on site at all times are crucial to ensuring that these requirements are met.
And the remote diagnostics and preventive maintenance enabled by KONE 24/7 Connected Services help the technicians do their jobs more efficiently. Thanks to the additional information, they have a clearer understanding of what needs to be fixed even before they set to work on the equipment. This helps reduce downtime, increases the life of the machines, and even allows for potential faults to be identified ahead of time so that unexpected breakages can be avoided.
This is all good news for passengers with heavy luggage making their way from one side of the airport to the other.
KONE's efforts to ensure that people flow at the Kunming Changshui airport is smooth and secure has gained the company a lot of praise: Zheng Chuan, a manager at the airport, calls KONE's services "quick and to the mark".
In additional to operational efficiency, the high-profile, mass-transit hub can boast about its green credentials. The Kunming Changshui Airport is the first "Green Airport" in China and has received LEED (Leadership in Energy and Environmental Design) certification.
Looking ahead, the Chinese aviation sector could be setting the standard for the development and modernization of airports around the world.