Back to top
WHO WE ARE
At KONE, our mission is to improve the flow of urban life. As a global leader in the elevator and escalator industry, KONE provides elevators and escalators, as well as solutions for maintenance and modernization to add value to buildings throughout their life cycle. Through more effective People Flow®, we make people's journeys safe, convenient and reliable, in taller, smarter buildings. In 2017, KONE had annual net sales of EUR 8.9 billion, and at the end of the year over 55,000 employees. KONE class B shares are listed on the Nasdaq Helsinki Ltd. in Finland.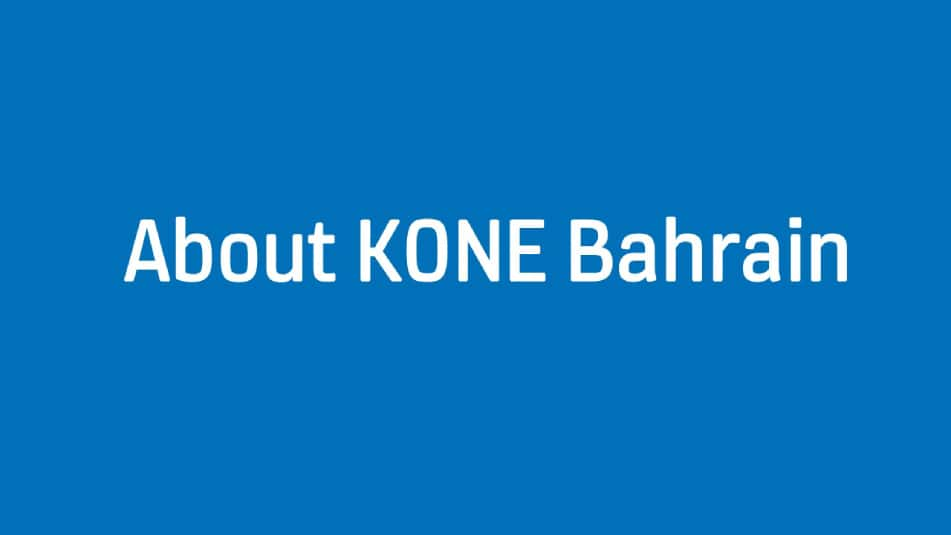 KONE BAHRAIN
In 1997, we brought our extensive experience in people flow to Bahrain - the luxurious GCC destination - under an agency agreement with El Zayani Commercial Services. After almost two decades of serious presence in the Bahraini market, KONE finally took full charge of its operations in this island nation in 2016 with a direct front line "KONE Bahrain S.P.C".
Through its Bahrain office, with 44 employees, KONE provides the market with a wide array of products and services, from industry-leading elevators, escalators, autowalks and automatic building doors, to installation, innovative solutions for modernization and reliable and predictive maintenance.
Since establishing a presence in Bahrain, KONE has introduced its driving values of ease, effectiveness and new premium experiences to many projects, including megaprojects, such as the Bahrain International Airport.
VISION AND STRATEGY
Our vision is to deliver the best People Flow® experience
This means we understand that different types of buildings serve different purposes, which has an impact on the flow of people and on the surrounding environment. It also means we provide Ease, Effectiveness and Experiences to our users and customers, over the full life cycle of buildings.
KONE's efforts to meet its strategic targets are supported by development programs that are designed to help us turn our strategy into reality.
Read more from our Sustainability Report (in English)
Read more about how we contribute to better urban living